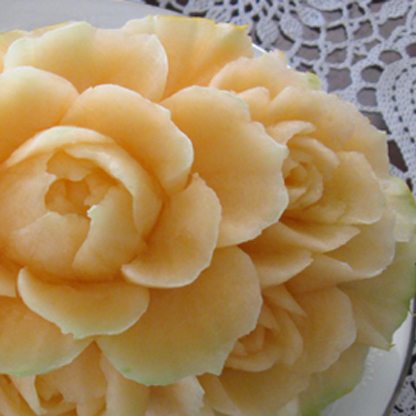 Your stellar carving efforts and presence at my sister's wedding is beyond words and/or monetary value. You are the best!!!! I'll forever be indebted to you.
Ann Kona
Maryland
I want to take this occasion to thank you for your wonderful fruit sculpture. It has brought much joy to Joan, who has taken it all over the neighborhood to show others.
We wish you well in the New Year and hope you will continue to bring joy to others through your extraordinary art.
Bob Cloward
Florida
Thanks for coming by the Kitchen. I really liked your work and found your style very creative, tasteful and inspiring. I'm sure that the students you were teaching walked away with an appreciation for the creativity in good presentation.
Looking forward to seeing you teach here again.
Mark Dietz
Catering Chef
DC Central Kitchen
The students LOVED your class and are still talking about it! You are so generous to share your talents with the students. You are truly a very special spirit. Thank you, thank you, thank you, so very much.
Linda Vogler
Culinary Arts Coordinator
DC Central Kitchen
Thank you for all your support and work with our students. We are so blessed to have people in the community like you who are willing to share their time and talents to help us combat hunger and create opportunity.
We couldn't do it without you!
Michael F. Curtin, Jr.
Chief Executive Officer
DC Central Kitchen